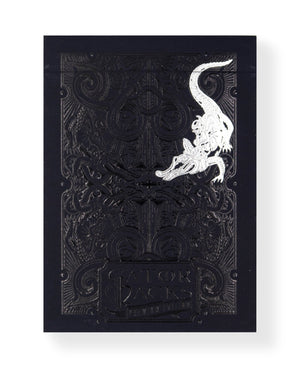 No expense has been spared in the creation of David Blaine's Black Gatorbacks and every detail has been considered; from the direction of the cut, to the type of printing press and embossing pressure. 
Illustrated by Mark Stutzman and designed around performance and style - the deck's black on black foil stamped tuck case is embossed to an incredibly fine detail, both inside and out. The custom seal ensures the cards have not been opened or tampered with.
Once inside you'll find custom court cards resembling some of Blaine's closest friends and respected magicians along with a number of hidden features that await the eager magician or card collector.
Printed on the highest quality casino stock by the United States Playing Card Company.
"David Blaine is the greatest magician who ever lived." Howard Stern
"Blaine's Street Magic is the best TV magic special ever done." Penn Jillette of Penn and Teller
Widely regarded as the saviour of magic and the greatest magician in the modern era, David Blaine is renowned for his TV specials, Street Magic, Magic Man and Real or Magic. In recent years he has put his body to the test and blurred the line between magic and reality taking on unfathomable endurance stunts such as submerging himself in 4000lbs of water for one week and freezing himself in a block of ice for 72 hours.