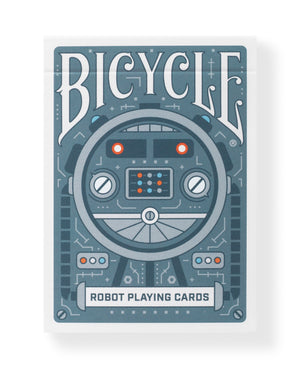 Automata and artificial intelligence have interested mankind of thousands of years. Inventors and engineers from across the globe have created robotic machines for productivity and entertainment. Today, robots are an essential part of business and recreation.

Limited to just 2,500 decks printed, Bicycle: Robot arrives housed inside an elegant tuck box complete with robot-themed sticker seal and features completely custom artwork with a variety of fun, futuristic-style androids on the back design and court cards.
Traditionally cut and printed byThe United States Playing Card Company on Classic Stock with embossed 'Magic' finish. All decks include a double backer and blank face gaff cards.