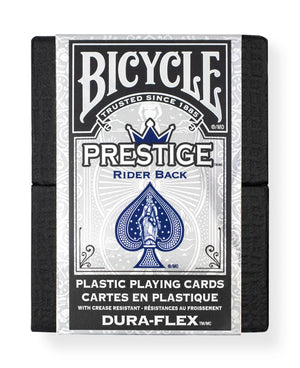 Bicycle Prestige: Rider Back Blue
Utilising Bicycle's decades of manufacturing experience, Prestige is able to offer unmatched durability and provide one of the closest experiences to paper cards from a deck that is 100% plastic.
Expect superb longevity, easy shuffling and cards that won't tarnish with use. In fact, you can even give them a wash with cold water with no effect to handling or their appearance! Perfect for everything from family games nights and garden parties to the card tables and professional tournaments. 
Manufactured in Spain and distributed by The United States Playing Card Company.
You'll find that a lot of the decks showcased on our site are manufactured by The United States Playing Card Company and rightly so, they create some of the world's best playing cards! 
Bicycle® is a brand developed by USPCC, named after their first back design which features penny-farthings, and are used for everything from household games to the most exclusive tables in Vegas. Bicycle cards have paved a path to freedom for POW's in WWII and kept presidents entertained in the oval office! They've been handled by some of the world's most famous magicians, Blaine and Copperfield to name but two, and are treasured by families, collectors and cardists.
For over 130 years USPCC have been referred to as the 'First in Fun' for bringing people together in the name of a good game with great company. 
Get shuffling!