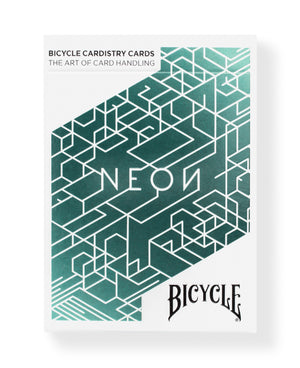 Specifically designed to provide the best cardistry experience for performers, and subsequently better your cardistry performances. Bicycle: Neon has been engineered to enhance the art of card flourishing.
With its unique back design and non-standard faces that include no pips or indices, Bicycle: Neon caters for a wide variety of cardistry styles - thin white borders help to differentiate between packets and, with a flip of the deck, full bleed design elements replace court and numbers cards, adding fluidity to your fans and helping to produce seamless spreads.
Printed by The United States Playing Card Company on Bicycle card stock with Air Cushion Finish.
You'll find that a lot of the decks showcased on our site are manufactured by The United States Playing Card Company and rightly so, they create some of the world's best playing cards! 
Bicycle® is a brand developed by USPCC, named after their first back design which features penny-farthings, and are used for everything from household games to the most exclusive tables in Vegas. Bicycle cards have paved a path to freedom for POW's in WWII and kept presidents entertained in the oval office! They've been handled by some of the world's most famous magicians, Blaine and Copperfield to name but two, and are treasured by families, collectors and cardists.
For over 130 years USPCC have been referred to as the 'First in Fun' for bringing people together in the name of a good game with great company. 
Get shuffling!