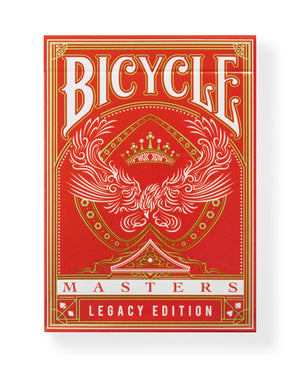 Bicycle Legacy Masters: Red
There's something comforting about familiarity. Whether it be the same toothpaste we use every day, or the same meals we eat each week. As magicians, we fall victim to similar habits, with many of us using the same Bicycle Rider Back deck for all of our magic, and refusing to change. After all, if it isn't broke, why fix it?
Enter Bicycle Masters: Legacy. In 2009, ellusionist debuted a new stock from The United States Playing Card Company using the traditional 'Bicycle Rider Back' design. The design was indistinguishable from a standard Bicycle deck, but the feel vastly improved, with a stock engineered to be thin, yet increase durability for die-hards and workers. You'll quit before this deck does.
Printed by The United States Playing Card Company on Crushed Stock. 
Ellusionist was founded on January 1st, 2001 by Brad Christian with the goal of creating the best online training environment for people who want to learn high-impact, effective magic tricks.
Since then, Ellusionist growth has been unprecedented, boasting one of the largest magic forums on the internet with over 60,000 members.
Constantly pushing boundaries, in 2017 Ellusionist launched Magic Stream, an online subscription based streaming platform, giving its users the ability to view magic tutorials anywhere, on any device.
The power to perform magic beyond belief.