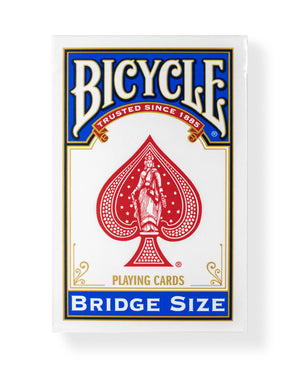 Since the 1930s, Bridge has been one of the most popular card games in the world with more books written on this trick-taking game of skill and chance than any other (except Chess!) Bridge continues to attract thousands of players today, all competing against one another to become Life Masters.

Specifically crafted for the game of Bridge, Bicycle Bridge cards are the same length as a standard poker-size deck but approximately 6mm thinner in width, making hands of thirteen cards much easier to handle!
Available in Red and Blue and printed by The United States Playing Card Company.
You'll find that a lot of the decks showcased on our site are manufactured by The United States Playing Card Company and rightly so, they create some of the world's best playing cards! 
Bicycle® is a brand developed by USPCC, named after their first back design which features penny-farthings, and are used for everything from household games to the most exclusive tables in Vegas. Bicycle cards have paved a path to freedom for POW's in WWII and kept presidents entertained in the oval office! They've been handled by some of the world's most famous magicians, Blaine and Copperfield to name but two, and are treasured by families, collectors and cardists.
For over 130 years USPCC have been referred to as the 'First in Fun' for bringing people together in the name of a good game with great company. 
Get shuffling!