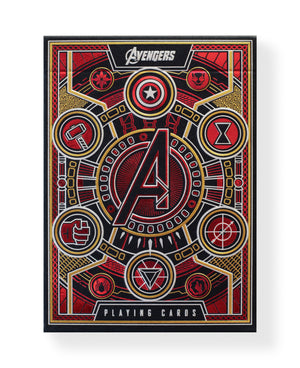 Now in a powerful Red colour-way, assemble your own squad of heroes with Avengers playing cards by theory11 and relive the most memorable moments of the iconic film series.
Inside a jaw-dropping tuck case laced with gold and radiant red foil, the cards feature completely custom artwork and leave no detail untouched. All aspects of their design have been inspired directly by fan-favourite characters quintessential to the Marvel Cinematic Universe; including Thor, Doctor Strange, Spiderman and many more! Even Loki and Thanos make their presence known on each Joker!
A stunning celebration of the Infinity Saga, printed by The United States Playing Card Company on FSC-certified paper derived from sustainable forests, vegetable-based inks, and starch-based laminates.
theory11 launched in 2007 with a team of 11 creators united by one purpose. To advance, inspire and create wonder.
Boasting the largest community of magic creators, with over 1,500 registered artists and hundreds of thousands of members around the world; theory11 have grown exponentially in the years following 2007 to become one of the largest luxury, designer playing card manufacturers in the world. With over 78 unique playing card designs under their belt, their goal is clear: to push the envelope and create the most breathtaking, innovative and elegant designs available.