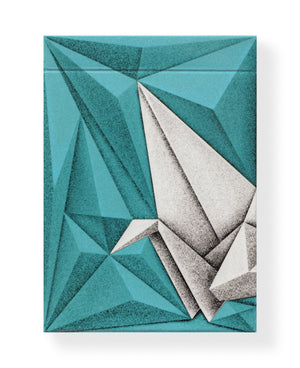 A symbol of hope, happiness and eternal youth, the crane is one of the most mystical and holy creatures in Japan (besides the dragon) and is said to live for a thousand years. An ancient Japanese legend promises that anyone who folds a thousand origami cranes, one for each year of the crane's life, will be granted one wish. 
Inspired by the art of paper folding, 1000 Cranes V2 retains the same great design as its predecessor, while adopting an all new, vivid blue colour-way! Place 3 decks together to showcase an enlarged image of an origami crane across the tuck cases!
Limited to 2,500 and printed by The United States Playing Card Company on Bee Casino stock.