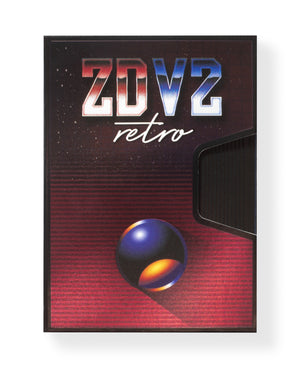 Heavily inspired by the 80s and vaporwave aesthetic, ZDV2 by December Boys adopts a nostalgic, retro-futuristic look. 

Consisting of 52 poker-sized designer playing cards and 4 green cards, ZDV2 brings back DB's signature concept which allows users to chroma key their green cards in cardistry videos and short clips for social media - change colours, add optical illusions or even overlay photos of your pets... It's like having your very own deck of cards through the magic of editing! 
Packaged inside a hand-assembled VHS-inspired tuck case, ZDV2's back design features custom illustrations that accentuate flourishes in motion and combines with face cards which adopt the aesthetic of retrofuturism but remain recognisable enough to be used for magic or casual play.
Designed by Emir Aličić and Ega Eland and printed by The United States Playing Card Company on Art of Play's trademark thin stock, preferred by cardists.