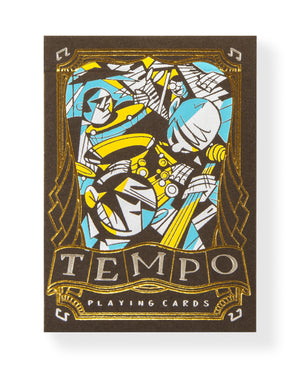 In the 1920 and 30s a new style of music rapidly gained popularity in the United States and artists such as Bessie Smith, Cab Calloway, Ella Fitzgerald and Billie Holiday became household names. That music genre was none other than, Jazz. 
Inspired by the golden age of jazz, Tempo playing cards by Art of Play come packaged in a screen-printed, embossed and foil stamped tuck case and feature an Art Deco style illustration that celebrates the spirit of improvisation and musical expression. 
Designed by Michael Mateyko and printed by The United States Playing Card Company on Art of Play's proprietary thin-stock. 
Twins brothers Dan and Dave Buck are perhaps best known for their contributions to the art of cardistry. 
Masters of sleight of hand, the Buck twins have released a plethora of instructional videos and DVDs which not only led to the increase in popularity of cardistry, but also made them two of the most influential people in the magic and cardistry community. 
In 2013, off the back of a becoming wildly successful producers of luxury playing cards, they founded Art of Play. Based in the United States, Art of Play curates a collection of wonderfully unique playing cards, puzzles, games and amusements.  
Epiphanies await the curious mind.