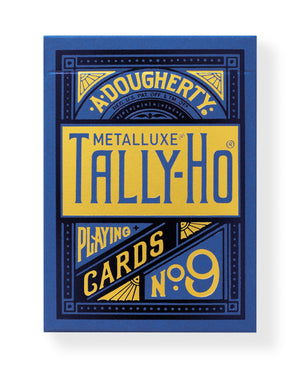 Tally-Ho Circle Back: MetalLuxe Blue
The ultimate luxury collectible playing cards, Tally-Ho MetalLuxe feature the classic Tally-Ho Circle Back design in a stunning metallic foil. Perfect for collectors, card mechanics and cardists alike. 

Both the tuck case and card backs have been stamped with an eye-catching royal blue foil to achieve a brilliantly dazzling shine and accompany re-coloured face cards to suit the deck's colour-way. 
Printed with a Classic Linoid Finish that can only be achieved through The United States Playing Card Company, Tally-Ho playing cards have a linen, textured feel that make them glide smoothly off one-another while shuffling, flourishing and provide an optimum card-handling experience. 
Tally-Ho® was originally a product of Andrew Dougherty, one of the earliest playing card manufacturers and was introduced in 1885, the exact same year as Bicycle. Dougherty's company was acquired by USPCC in 1907, adding Tally-Ho's to their extensive assortment. 
You'll find that a lot of the decks showcased on our site are manufactured by The United States Playing Card Company and rightly so, they create some of the world's best playing cards! 
For over 130 years USPCC have been referred to as the 'First in Fun' for bringing people together in the name of a good game with great company. 
Get shuffling!