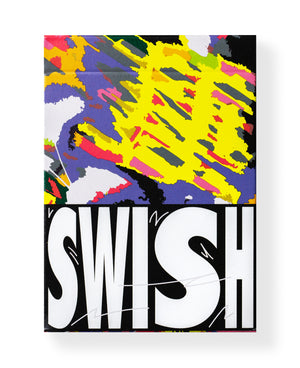 Inspired by streetwear trends and typography, SWISH playing cards by CardCutz have been designed to maximise visual impact and add a modern aesthetic to your card flourishes.
Inside the vibrant tuck case, Aces and Jokers feature 'block' typography which bridges the gap between modern design trends and playing card design. Face and court cards have also been reimagined to suit the theme of the deck, with small accents, a single re-coloured pip on every card and a number of illustrations that reinforce the name SWISH.
Limited to 2,500 and printed by The United States Playing Card Company on thin crushed stock for optimal handling.