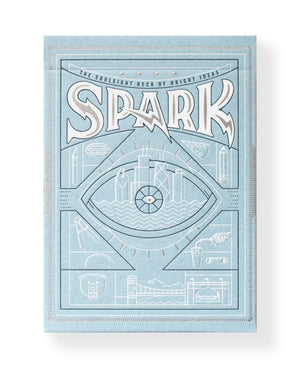 We're makers, creators, innovators and above all, inspiration seekers. But, let's face it, some days are easier than others when it comes to sparking creativity...
Produced by Art of Play in collaboration with Chicago-based branding agency, Soulsight, Spark playing cards are designed to evoke ideation and conquer creative block.
Packaged inside an exquisite, letterpress-printed tuck box featuring foil stamped accents inside and out, any one of the thirty-six prompt cards featured in the deck can be used as a catalyst to ignite your thinking and take creativity to a whole new level.
Limited to 2,500 and printed by The United States Playing Card Company on Art of Play's trademark thin stock, preferred by professional card handlers. 
Twins brothers Dan and Dave Buck are perhaps best known for their contributions to the art of cardistry. 
Masters of sleight of hand, the Buck twins have released a plethora of instructional videos and DVDs which not only led to the increase in popularity of cardistry, but also made them two of the most influential people in the magic and cardistry community. 
In 2013, off the back of a becoming wildly successful producers of luxury playing cards, they founded Art of Play. Based in the United States, Art of Play curates a collection of wonderfully unique playing cards, puzzles, games and amusements.  
Epiphanies await the curious mind.