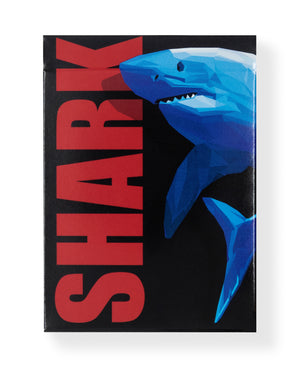 Third in Riffle Shuffle's animal series of decks, Shark playing cards are inspired by the king of the seas, the Great White Shark!

Designer Adrian Valenzuela (whose also worked on the Memento Mori, FLUID and Oblique decks) breaks down the Shark's form into low-poly artwork, giving the animal a scale-like appearance. The tuck case features a wraparound graphic, creating a stunning display when three decks are positioned together.
Whilst there are no full bleed elements, the cards are printed with no physical borders, allowing for seamless connections between Shark fins when the cards are spread of fanned. Face and spot cards are completely custom and feature one-way court card designs that wield weapons and look like warriors taken straight from Atlantis!
Beware, the sharks are here!
Limited to 2,500 decks and printed by The United States Playing Card Company on Premium Bee Stock.