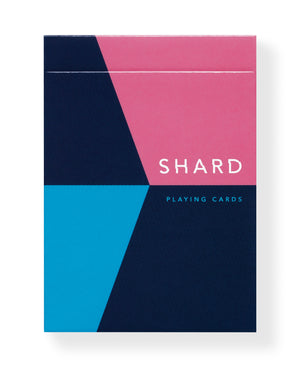 Designed to accentuate your card flourishes, SHARD balances minimal design with maximum functionality, featuring thin white borders with light blue and pink shapes set against a rich navy backdrop. 
Every aspect of this deck has been customised - from Aces and indices, to pips and Jokers. SHARD's court cards however, are arguably its most distinguishable feature; inspired by the flow of packet cuts, each design has been meticulously crafted to remain identifiable with minimal information. Utilising light blue and navy accents to denote the suit and symbol of each card (sceptre, flower, sword)
Bigger, bolder, and more stunning flourishes have never been easier.
Printed by The United States Playing Card Company with Air Cushion Finish.