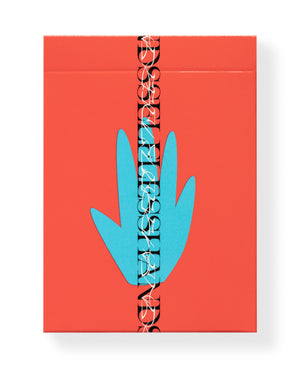 SELFLESSHANDS by zalēm features a one-way card back that pops with a sky-blue abstract hand, contrasted against a peach backdrop.

With semi-custom face cards adopting a metaphysical look and a thick white border, SELFLESSHANDS has been crafted from the ground up to make your cuts, spins and flourishes look unbelievable. 
Escape into a world of expressionism, blending pop, metabolism, streetwear and abstract inspiration. Join zalēm's vision. 
Limited to 1,000 decks and printed by The United States Playing Card Company on Classic Stock.