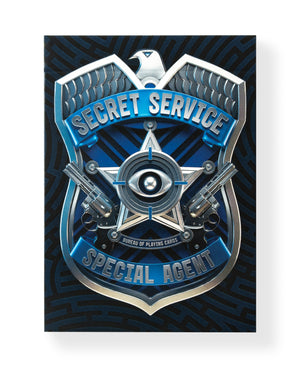 Riffle Shuffle's Bureau of Investigation are now recruiting and looking for new agents to join a very special Secret Service. There was an idea, to bring together a group of very talented individuals, to secretly protect our world... this could be your chance.
Conceived by Steven Harrison, designer of Play Dead and Black Hole playing cards, prepare to be thrust into a world full of mystery and conspiracy. Secret Service introduces you to the world of spies, where you're taken on a top-secret mission, unlocking secret codes, and saving the world. Your mission, should you choose to accept it... There is a badge and an ID card included in the deck, you only have one shot!
Limited to 3,000 and printed by the United States Playing Card Company on premium crushed Bee stock with Air Cushion Finish.