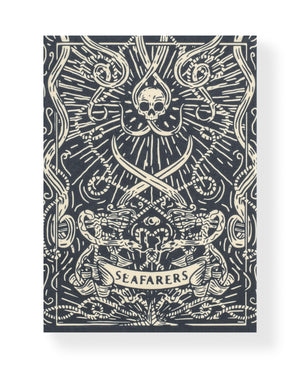 Writhing with symbolism from the darkest depths and the furthest oceanic horizons, Seafarers: Submariner follows in the footsteps of the wildly successful original Seafarers but has been reimagined in an inky black colour-way!

Housed inside a stunningly intricate tuck case made using letterpress techniques and capped with a blood red seal, Seafarers are illustrated by hand and feature an iconic Ace of Spades and a set of original court cards where Jacks, Queens and Kings tell an enchanting tale of nautical adventure.
Designed by Gustavo Magalhaes and printed by The United States Playing Card Company on proprietary crushed-stock using environmentally safe ink on sustainably sourced paper.