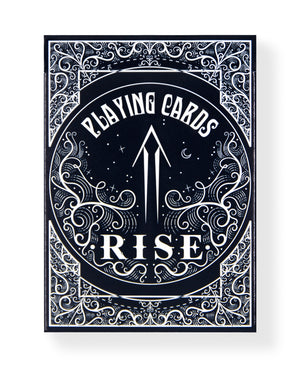 After three years and over two hundred YouTube videos, Rise playing cards by Grant and Chandler Henry of Rise Magic are here. 
Inspired by astronomy and geometry and designed to be visually stunning whether static or in motion, Rise playing cards feature beautiful midnight blue card backs with circular design elements that depict a starry night sky.
Each deck includes custom Jokers that contain phrases rooted in the brand's values and history with pips and Aces that mimic the design language of the back design.
The resulting aesthetic is one that is perfectly suited to both magic and cardistry, making it a versatile addition to any collection or your everyday carry. 
Limited to 5,000 and printed by The United States Playing Card Company on Premium Crushed Stock with Air-Cushion Finish.