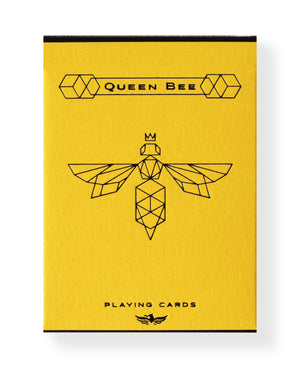 The matriarch of the hive, the Queen Bee is worshipped by the entire colony and is fiercely protected. 

Unlike the Killer and Super Bee decks by ellusionist which feature a faint white halo around the deck's perimeter, Queen Bees have no border, spilling over the edge in an abundance of gloriousness. The design is that of a classic borderless deck, repeating into infinity with two vibrant yellow bees that stand out in the corners to accentuate the design and a create a focal point for your eyes. 
Housed inside a matte yellow tuck case with de-bossed details, cards feature custom pips and are set against a crisp, white backdrop with sinister simplicity. Bespoke court cards complete the line-up and include connecting hexagons encasing an effeminate design, like honey trapped within a single cell of the honeycomb. 
Printed by Cartamundi on E7 Luxury-pressed card stock.  
Ellusionist was founded on January 1st, 2001 by Brad Christian with the goal of creating the best online training environment for people who want to learn high-impact, effective magic tricks.
Since then, Ellusionist growth has been unprecedented, boasting one of the largest magic forums on the internet with over 60,000 members.
Constantly pushing boundaries, in 2017 Ellusionist launched Magic Stream, an online subscription based streaming platform, giving its users the ability to view magic tutorials anywhere, on any device.
The power to perform magic beyond belief.