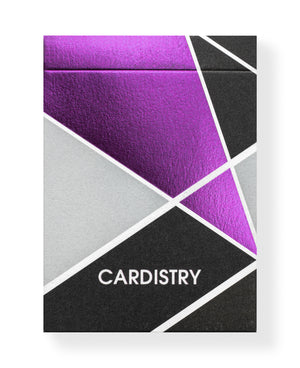 Housed within a tuck box featuring sharp, clean lines separating blocks of colour and purple foil accents that create a metallic texture, Purple Cardistry playing cards by BOCOPO are a fresh interpretation of a deck designed for the art of card flourishing. 

With bold, geometric card backs and crisp white borders, Purple Cardistry is guaranteed to create stunning visuals, emphasise packet cuts and caters for everyone from the beginner cardist to the more advanced. Each card even has centre indication points to make rotational flourishes easier to practice! 
Court cards have been redesigned and are depicted as silhouettes, overlaid with similar geometric design elements found on the card backs, and red suits are recoloured to a vibrant yellow for maximum visual impact, regardless of the deck's orientation. 
Limited to 2,500.