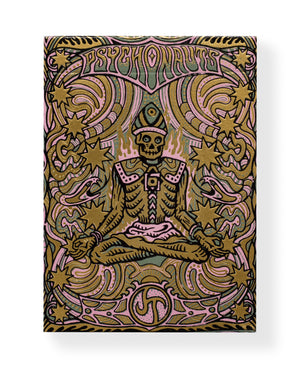 Explore reality beyond the perception of the five senses with Psychonauts playing cards by Joker and the Thief.
Take a journey into the depths of your mind with a nostalgic tribute to the 1960s psychedelia and new age spiritualism. The time when Eastern gurus, meditation, and yoga first seeped into Western mainstream consciousness. A time of peace, love and flower power! 
Housed inside an exquisite tuck case inspired by the Horror Vacui art style (fear of empty space), Psychonauts feature symbolism and references throughout their design, with 100% custom, hand-illustrated art work - from each of the Jacks consuming psychedelic substances to the Kings featuring the likenesses of legends such as Terrence McKenna, Osho and Alan Watts.
Printed by the United States Playing Card Company.