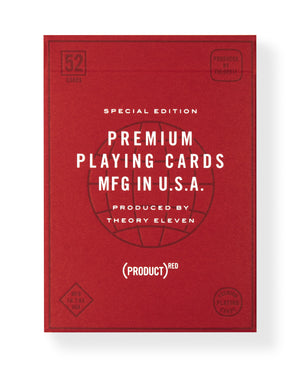 HIV is a leading cause of death amongst women and over 400 babies a day are diagnosed with the infection. Yet it is preventable with just one pill a day costing 20 cents.
Each deck of (PRODUCT)RED Playing Cards can provide up to five days of life-saving HIV medication. Medication that not only keeps someone living with HIV healthy, but also prevents mothers from passing the virus to their unborn babies. To date, (RED) has raised over $650 million for the Global Fund to fight AIDS across sub-Saharan Africa - impacting the lives of over 180 million people worldwide. 
The second edition (PRODUCT)RED deck is breathtaking - with a simple, elegant, deep red design blind de-bossed details with an objective we all share, 'Imagine a world without AIDS'.
Printed by The United States Playing Card Company using FSC-certified paper from sustainable forests.
Every deck makes a difference. 
theory11 launched in 2007 with a team of 11 creators united by one purpose. To advance, inspire and create wonder.
Boasting the largest community of magic creators, with over 1,500 registered artists and hundreds of thousands of members around the world; theory11 have grown exponentially in the years following 2007 to become one of the largest luxury, designer playing card manufacturers in the world. With over 78 unique playing card designs under their belt, their goal is clear: to push the envelope and create the most breathtaking, innovative and elegant designs available.