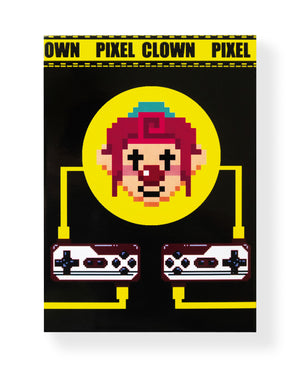 Pay tribute to retro game consoles of the 1980s, the golden age of pixel style, and follow the antics of a Pixel Clown as he challenges monsters, saves the princess and meets more pixel pals! Welcome to the pixel kingdom.

Rich with video game references, the back of the tuck box introduces us to 'Novice Village', the start of Pixel Clown's adventure and is joined by the words Stage 1 - Brave Mainland on the bottom, suggesting that there are more wondrous worlds that await!
Limited to 750 decks printed, each features an individually numbered seal sticker, number cards that suit the decks theme and court cards that tell Pixel Clown's story as he progresses through Stage 1.

What will he face along the way? Open the deck and discover the answer!