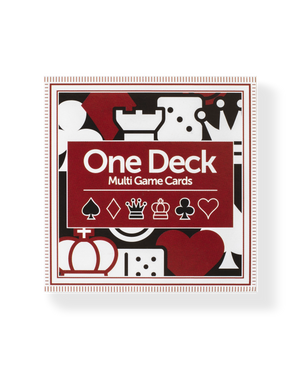 One deck, a zillion games to play.
One Deck Game Cards feature clear simple markings that unlock a multitude of games including chess, dominoes, checkers and of course, any regular card game.
The real magic of these cards however are games beyond cards. Sure, chess and checkers are fun, but did you know you can also play dozens of games that require 28 regular dominoes, and anything else you can play with red and black chips and three six-sided dice? What's more, add another deck and you not only get more playing cards, but more dice and extra cards that can function as poker chips, unlocking games such as Yahtzee, Reversi, Go and more.
Printed by Cartamundi, each deck includes four jokers with diagrams to remind you how to setup chess, checkers/draughts, dominoes and backgammon.