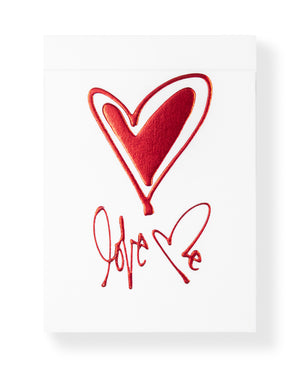 Hand illustrated by Curtis Kulig and inspired by his iconic campaign and signature statement, 'Love Me' can be seen in galleries and rooftops around the world as well as collaborations with major brands including Vans, OBEY and Urban Outfitters. 
Housed within a fine-linen paper tuck case with vibrant red foil detailing, Love me playing cards feature an original Ace of Spades, Jokers, back design and Ace of Hearts renamed to the Ace of Love. 

As timeless and universal as the message itself, share the art you love with the one you love. 
Printed by The United States Playing Card Company on FSC-certified paper derived from sustainable forests using vegetable-based inks.
theory11 launched in 2007 with a team of 11 creators united by one purpose. To advance, inspire and create wonder.
Boasting the largest community of magic creators, with over 1,500 registered artists and hundreds of thousands of members around the world; theory11 have grown exponentially in the years following 2007 to become one of the largest luxury, designer playing card manufacturers in the world. With over 78 unique playing card designs under their belt, their goal is clear: to push the envelope and create the most breathtaking, innovative and elegant designs available.