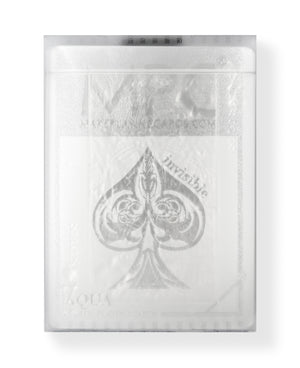 The closest thing to an invisible deck of cards, Invisible AQUA joins Make Playing Cards 'Impressions' series of decks and utilises state of the art printing techniques to apply high-gloss transparent print to premium transparent plastic card stock. The result... cards that are identifiable, but almost completely invisible! 

Housed within a frosted transparent plastic tuck case, Invisible AQUA has been engineered to retain as many traditional playing card attributes as possible. MPC have not only ensured that AQUA's finish allows for easy table cuts and silky smooth spreads, but that its thickness matches that of a standard deck too! In fact, not only can AQUA be fanned, faro shuffled, dribbled, sprung and spun but it can also be bent and completely submerged in water with no issues to card stock or print! 
It's time to add another dimension to your card magic.