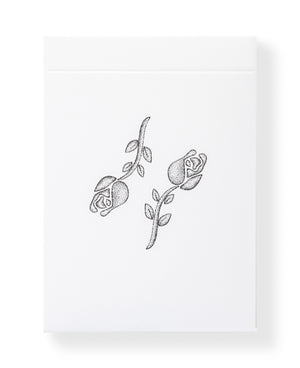 Innocence playing cards by Daniel Schneider juggle detail and minimalism to create a deck which is simply stunning to look at but does not feel overwhelming or cluttered in design. A balance which is difficult to achieve, especially when 1,178 individual dots go into creating the seal sticker alone! 
Encased within a matte white tuck box, the second print run features the same intricately illustrated card backs and tuck case as the first edition, with dot drawings creating a two-way design originally sketched by one of Schneider's close friends. Face and spot cards have been redrawn with improved accuracy and symmetry and, unlike past releases from Daniel, courts cards are standard except for the Queen of Clubs and the King of Diamonds.
Perfect for your magic routines, Innocence includes an 8 of Spades duplicate with a gold back design, a double backer and an Ace of Hearts reveal on a Joker. 
Limited to 2,500 decks, traditionally cut and printed by The United States Playing Card Company on Premium crushed Bee stock with Air-Cushion Finish.