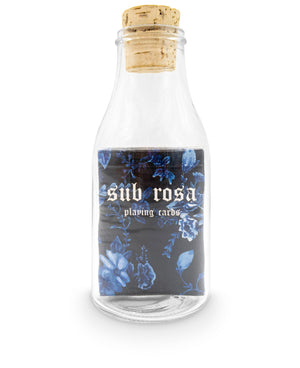 Impossible Bottle: Sub-Rosa
Encased within a solid glass bottle, Sub-Rosa by cardsxiii is an alluring, floral deck of cards featuring a beautiful, hand-drawn, retro-illustration of vivid flowers and leaves.
Inspired by the traditional 'Ship in a Bottle' concept and hand assembled by Stanley Yashayev, Impossible Bottles are incredible, thought provoking art pieces. A full deck of cards somehow remains it's original plastic wrapping within a bottle that has had no cuts, tampering or any manipulation! 
All bottles come with Stanley's custom, branded cork ensuring authenticity and the upmost quality.