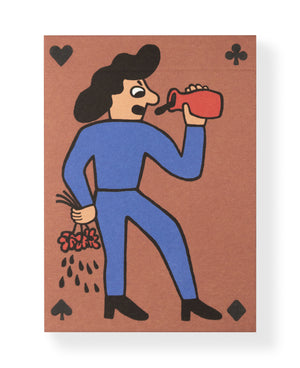 Produced in collaboration with the world-famous Danish microbrewery, Mikkeller along with art director Keith Shore, Henry & Sally are hop-sniffing, long-nosed lovers who have adorned Mikkeller beer labels since 2010 and now, ten years later, have their own deck of playing cards!
This limited edition deck features an original back design, identical Jokers and thirteen custom face cards packaged within a series of six unique collectors tuck boxes, distributed at random.

Printed by The United States Playing Card Company.
Twins brothers Dan and Dave Buck are perhaps best known for their contributions to the art of cardistry. 
Masters of sleight of hand, the Buck twins have released a plethora of instructional videos and DVDs which not only led to the increase in popularity of cardistry, but also made them two of the most influential people in the magic and cardistry community. 
In 2013, off the back of a becoming wildly successful producers of luxury playing cards, they founded Art of Play. Based in the United States, Art of Play curates a collection of wonderfully unique playing cards, puzzles, games and amusements.  
Epiphanies await the curious mind.