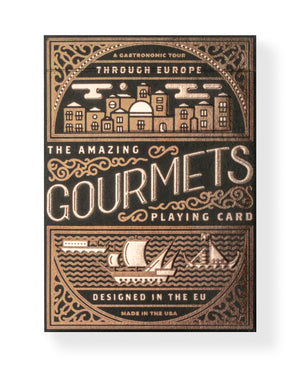 Produced by Riffle Shuffle and designed by Alba Zapata, Gourmets playing cards take you on a delicious journey through Europe to find your favourite dish! From Portugal to France, Switzerland to Spain - if you love food, you will love this deck!
Housed within a premium matte finish tuck case, complete with custom seal and copper and pink foil detailing, Gourmets features a mirrored back design that showcases sights of Europe, including the skyline of a town square, bottles, wine glasses, sea waves, and much more for you to discover.
The gastro journey continues with court cards as royals from various European countries, each featuring local delicacies and specialties. The King of Spades, for example, features Spanish Artists with fish skewers and the Jack of Hearts is a charming gondolier from Venice with Italian Pizza, Pasta, and Gelato.
Limited to 2,500 and printed by The United States Playing Card Company. 
NOTE: The 9 of Hearts is missing the suit symbol on the upper left and bottom right corners.