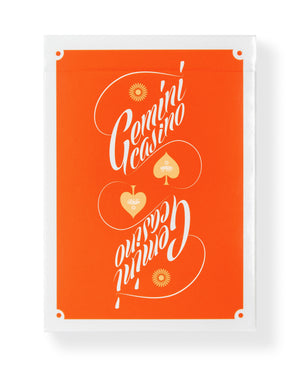 Gemini Casino 1975: Orange
A highly anticipated release from Gemini Decks, 1975: Orange joins the popular Casino series and features old school design elements inspired by vintage Las Vegas Casinos and classic playing cards such as Wynn's and Jerry's Nuggets. 
Individual numbered seals bring exclusivity to a deck that is both nostalgic and refined - utilising the most up-to-date printing methods to provide the user with superb deck longevity and handling. 
Produced in a vibrant orange colour-way, each deck features traditional court cards, two identical Jokers and a custom Ace of Spades. 
Limited to 1,200 and printed by The United States Playing Card Company on soft crushed stock.