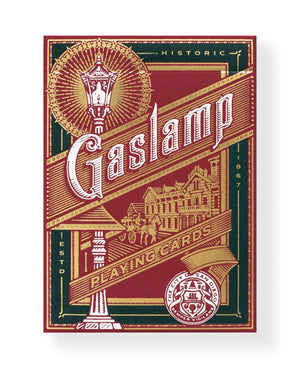 A tribute to the historic Gaslamp Quarter in San Diego, California; Gaslamp playing cards by Art of Play celebrate the district's beautiful Victorian characteristics and eclectic past.
Illustrator, Jeff Trish, captures the area's unique charm in a style reminiscent of nineteenth-century line engraving with intricate details and subtle hints of folklore throughout. 
Sustainably printed by The United States Playing Card Company using FSC certified paper and vegetable-based inks on our trademark stock and finish.
Twins brothers Dan and Dave Buck are perhaps best known for their contributions to the art of cardistry. 
Masters of sleight of hand, the Buck twins have released a plethora of instructional videos and DVDs which not only led to the increase in popularity of cardistry, but also made them two of the most influential people in the magic and cardistry community. 
In 2013, off the back of a becoming wildly successful producers of luxury playing cards, they founded Art of Play. Based in the United States, Art of Play curates a collection of wonderfully unique playing cards, puzzles, games and amusements.  
Epiphanies await the curious mind.