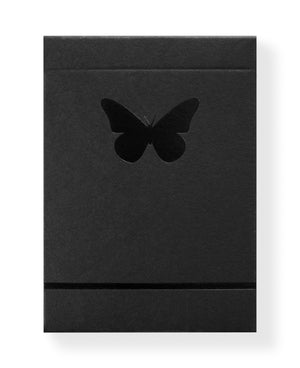 Reimagined in a stealthy black and white colour-way with exquisite edge printing, Futterfly playing cards by Ondrej Psenicka feel like they have been made of materials from another planet!
The perfect balance of aesthetics and functionality, Butterfly Playing Cards have worked with Cartamundi and their specialist edge-printing partner company in France to prevent the diminishing effects edge-printing has on how cards feel and the smoothness of fanning. The end result is a deck whose edges not only protect the quality of the cards by defending against humidity and hand moisture, but actually enhances the pack's magical features!
Printed by Cartamundi on Slimline Card Stock with True Linen B9 Finish. Futterfly is non-marked, making it perfect for card games. Each deck include 54 cards and a double-backer.