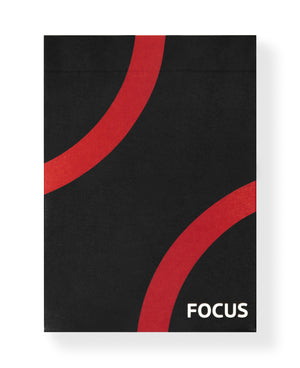 Perfect for fans of photography, Adam Borderline pays tribute to the tools of his trade with this camera-inspired deck of cards.
Unlike Adam's previous releases, Untitled and Untitled V2, which took inspiration from the fluid nature of paint, Focus feels more mechanical and restrained with shapes and lines that are reminiscent of frames, lenses and inner workings of cameras. The words Iso, Aperture and Exposure can be found on the matte-black tuck case which includes internal printing and a custom seal featuring Adam's logo. 
Face and spot cards are Bicycle standard, making this deck excellent for card games and magic, but have been recoloured to suit the deck's theme. Deep reds are used for Hearts and Diamonds and no saturation greys make up the Spades and Clubs.
Printed by 
The United States Playing Card Co. 
on
 Crushed Stock
 and limited to just 2,500.