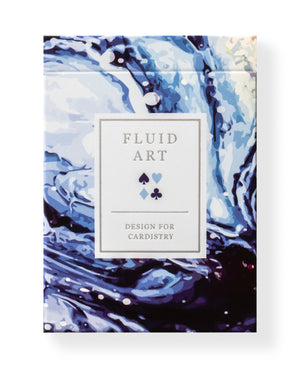 Fluid Art Blue: Standard Edition
In English, 'Fluid Art' is defined as the embodiment of flow and design which draws inspiration from fluid paintings. In Chinese, it means glittering and brilliant colours of light. 
Whilst Fluid Art: Standard Edition shares the same colour scheme as the Cardistry Edition, their tuck cases, back designs and card faces are all different. With crisp, narrow white borders, a simple fresh design and modified (yet easily recognisable) court cards, the Standard Edition is an altogether more playable deck than it's Cardistry counterpart; perfect for anyone looking to add a splash of colour to their collection, card routine or next games night. 

Printed by Taiwan Playing Card Company on Ultra-thin Fluid stock with Air-Cushion Finish.