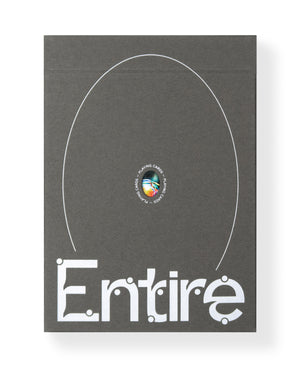 Motivated by concepts of visual framing and selected realities, ENTIRE by dealersgrip aims to illustrate the inharmoniousness between some and all. By encapsulating a selected part of the whole, a new entirety emerges, a process which can be repeated both inwards and outwards with profound implications.
ENTIRE follows in the footsteps of the brand's previous abstract designs such as Sepal, FORM and Error, but introduces an oval-shaped one-way back design with graphic elements that resemble primordial soup or otherworldly membrane generated using machine learning.
The same oval-theme transcends to face cards, Aces and even a beautiful matte tuck case which includes oval-shaped die-cut windows to provide a glimpse at the back design.
A new total emerges from the encapsulated some.
Limited to 1,200. 
Oliver Sogard & Tobias Levin have almost 10 years worth of cardistry experience between them. dealersgrip was born from their combined love of cardistry and is an online marketplace where students can purchase video tutorials of the duo's incredibly visual and unique cardistry moves.
In November 2016, Sogard and Levin gave us a glimpse of their first deck of cards, STRIPE.
"As a cardist your only tool is a deck of cards, so the idea of designing our own came naturally. Although it might sound cliché, we really wanted our cards to stand out. They had to both represent our style of cardistry and what we admire aesthetically. The final product would have to be something we would use every day"
Since then dealersgrip has grown in popularity and 2017 we saw the release of the pairs latest creation, BRUSH. Both decks were sell-out successes and we're set to see a lot more from these two in the future!