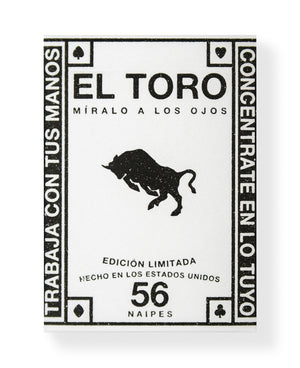 Released as part of the Kings Wild Shorts playing card subscription, El Toro is a fresh and unique approach to hand-illustrated playing card design, inspired by traditional Mezcal spirit labels. 

Pulling design elements from beautiful Mezcal bottles, El Toro features a strikingly simple tuck formed from thick, matte-white card stock that conveys its message through a straight to the point typesetting and simple serifed font.
Inside, the cards have highly contrasting colours with bold typography and enlarged indexes and pips that enable easy readability and that grab your attention. Court cards adopt a playful aesthetic, have their own quirky personalities and are clothed in 15th-century Spanish royal clothing with refreshing faces. 

Printed by The United States Playing Card Company with tuck cases expertly printed by Clove St. Press.