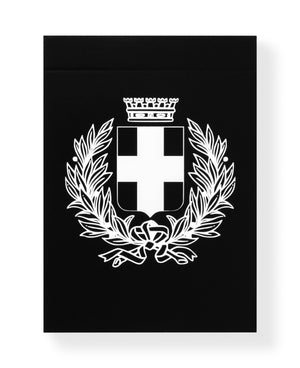 Inspired by the city of Milan, Dom playing cards feature Milan's Cathedral, the biggest cathedral in Italy and one of the most beautiful in Europe.
Taking nearly six centuries to construct, work on Duomo di Milano began in 1386 under the watchful eye of Gian Galeazzo Visconti, who belonged to one of the most important families of Milan. 
The colours of the Visconti family (white and red) are still found in the modern emblem of the city, which is represented on the Ace of Spades. The Jokers represent Meneghino, a popular theatre character who is usually portrayed as honest and just and is one of Milan's many symbols.
Limited to 1,000 decks and printed by The United States Playing Card Company on Premium Stock with Air-Cushion Finish. Each deck arrives with a Black/Red double backer for your magic performances.