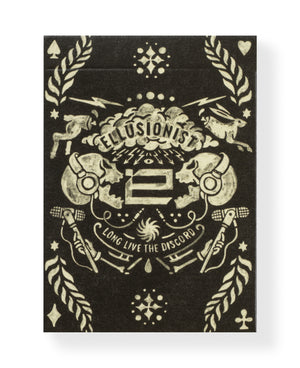 Magic, mentalism and playing card collecting are underground passions. Let's face it, it's very unlikely that your neighbour will know magic or collect custom decks. That's why many of us turn to online communities, in a frantic search to find like-minded souls... to find our people. 

The Discord deck by ellusionist celebrates the coming together of those common ideas to form an alliance.
Battle-worn and hand-painted, Discord features custom faces, court cards and Aces designed the supremely talented Oban Jones. The tuck box is crafted from premium matte paper and features curious iconography and gorgeous internal printing. The back design is unrestrained and free-spirited, a nod to the new wave of magicians that are ditching the rabbits and top hats for more modern ways of expressing the art. 
Printed by Cartamundi. Each deck includes a duplicate Queen or Hearts and a double-backer for effortless switches and concealments. 
Ellusionist was founded on January 1st, 2001 by Brad Christian with the goal of creating the best online training environment for people who want to learn high-impact, effective magic tricks.
Since then, Ellusionist growth has been unprecedented, boasting one of the largest magic forums on the internet with over 60,000 members.
Constantly pushing boundaries, in 2017 Ellusionist launched Magic Stream, an online subscription based streaming platform, giving its users the ability to view magic tutorials anywhere, on any device.
The power to perform magic beyond belief.