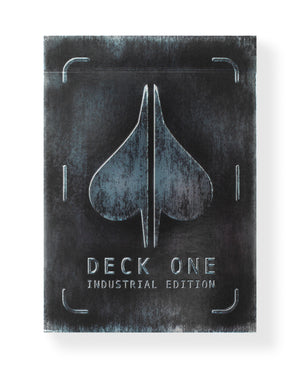 Featuring original illustrations by Homer Liwag, Deck One by theory11 draws inspiration from over thirty years of television and movie production design.
The perfect union of Homer's formal training in Industrial Design and his passion for feature film and conceptual art, Deck One is encased within a metallic, mechanical-themed tuck box made of thick card stock and coated with a durable varnish. This simple, sleek and modern design is one that you will be proud to own and use, time and time again.
Printed to Q1 Quality on the web casino press at The United States Playing Card Company. 
"I wanted the back design to appear heavy - like the giant, otherworldly machines they depicted. For the case, I created the look of worn, military-grade, black-stamped steel by using thick metallic stock and subtle printing and embossing effects." - Homer Liwag