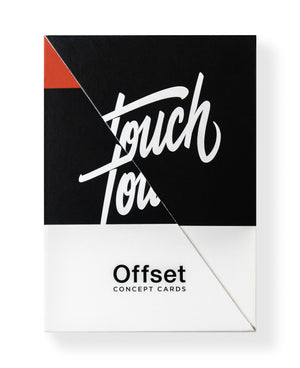 Cardistry Touch: Offset Orange
Mistakes are invaluable learning experiences - in cardistry, mistakes often lead to the creation of new, or interesting variations of flourishes. Offset Orange by Cardistry Touch is a bold take on traditional design and builds on this concept, drawing inspiration from the misprint of playing cards. 

By using the 'offset' as part of the actual design, Cardistry Touch have created four different card backs with four different directions - whether you follow the arrow or fight it, this is a design that is sure to give a new aesthetic to your flourishes. 
Housed within Cardistry Touch's iconic 'Swivel Box' and printed by The United States Playing Card Company on premium crushed stock.
Founded by Dimitri Arleri and Ladislas Toubart through a shared love of cardistry. With over a 15 years of experience between them, Dimitri and Ladislas share a common vision and believe that Cardistry is about evolution, not perfection. Dropping cards is absolutely fine, you learn, you evolve, you develop. 
'Touch' is now the pair's full time job and, following the launch of their first deck designed for cardistry, ORIGIN, they have begun building a team of like-minded cardists, sharing their creative vision and challenging themselves everyday to refresh, reiterate and innovate the art of cardistry.