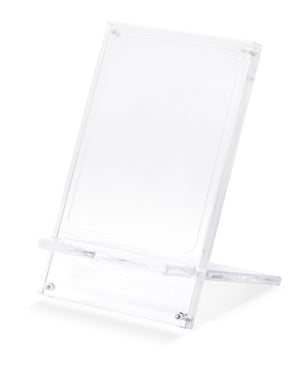 Do you have a signed playing card from your favourite magician or cardist? How about a design that you think deserves its own space within your collection? Elegantly display your favourite playing card whilst keeping it protected from potential damage or harm with Carat XDS. 

Featuring bevelled edges and rounded corners for a graceful look and feel, XDS is made of two main components produced from clear archival quality acrylic - the display and the base panels. Effortlessly assembled and disassembled thanks to four neodymium magnet pairs, Carat XDS includes a cut-out the shape of a poker-sized playing card designed to keep your card easily centred and on display and can also be used as a stand to show off your favourite deck!
Playing cards not included.