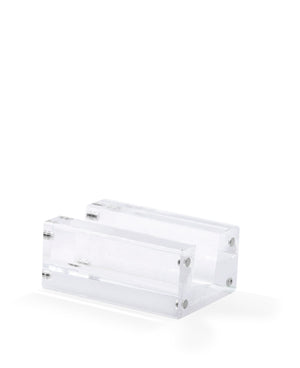 The preferred playing card storage and display cases of the discerning designer and collector alike - Carat XDD provides you with a simple, elegant way to display your decks. 
Made of a solid piece of 3cm thick acrylic with a slanted groove designed to comfortably fit decks from the leading playing card printers, Carat XDD is the perfect way to flaunt your most prized playing cards or to keep your daily deck at your fingertips!
Surrounded by four inset neodymium magnets, XDD gives you the ability to join multiple stands seamlessly, displaying an array of your favourite decks at once! Rubber pads are also included separately with every stand to prevent sliding and scratching on surfaces.