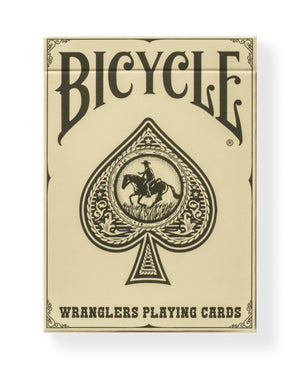 It is estimated that in the mid-1800's up to 25% of factory printed playing cards with back designs were marked. Bicycle: Wranglers are no exception.
Unlike the coded systems of the past, Bicycle: Wranglers have openly-readable marks, designed by Phill Smith. While the swindlers of the 19th century would have used their marked decks to beat the odds at a "friendly" saloon game, Wranglers are to be used for entertainment purposes only.
The back design adopts a familiar, traditional layout featuring a galloping rider and accompanies completely custom pips, indices and court cards that have been designed by Ovidiu Stoica, featuring cowboys and cowgirls with subtle touches of metallic ink.
Limited to 2,500, traditionally cut and printed by The United States Playing Card Company on Crushed Stock with 'Magic' Finish.