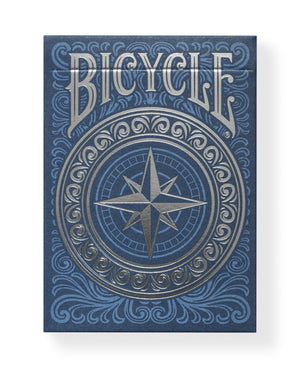 Journey to a different time and land with Bicycle: Odyssey playing cards. 
Housed inside a matte tuck case with intricate, wave-like elements surrounding a central compass and metallic foil detailing, Bicycle: Odyssey is an ocean-inspired deck with blue tones throughout; taking card enthusiasts, collectors and card players alike on an adventurous quest through the high-seas and across treacherous land. 

Court cards take inspiration from Trophy Whist No. 39, first printed by The United States Playing Card Company in 1895, and have all faces re-coloured in beautiful, monochromatic blues with suits maintaining their original red and black colours.
Not only a beautiful statement piece on your coffee table, but also the perfect deck for playing card games - from Rummy to Spoons, Spades to Euchre, Hearts to Blackjack, and hundreds more. 
Printed by The United States Playing Card Company with Air-Cushion Finish.