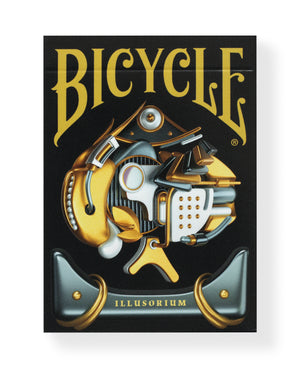 Seek deeper meaning in the Illusorium and you'll come up empty. A place where anything goes and nothing is ever explained. Where mystery beats all.

Bicycle: Illusorium is a deck for those who delight in the different. The collector who seeks to be challenged by what they see. The cardist who searches for the strange and feels the magic. The players who accept the absurdity of a life in which one day the cards will smile upon them and the next, smirk in their face. 
Painstakingly handcrafted and 3D modelled from scratch, this is a deck for the artists who play with perspective and the visionaries who toy with reality. 
Printed by The United States Playing Card Company on Bicycle Classic Stock.