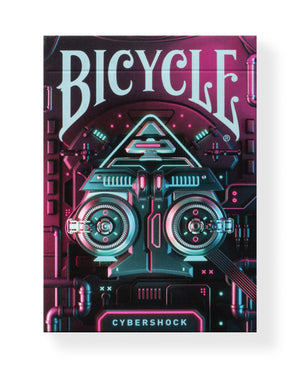 The peak of the cyberpunk universe's influence on pop culture was in the 80's and late 90's but we have seen a resurgence of the genre over the last few years. 

Produced by Excelsior Playing Cards and illustrated by Fernando Matias, Bicycle: Cybershock is completely custom and features its own unique court card characters, each handcrafted and then 3D modelled from scratch. From elite fighting soldiers and family swords to cyber armour and neural chips, Bicycle: Cybershock combines pop culture hype with luxurious aesthetics, appealing to everyone from cyberpunk fans to cardists and magicians. 
Limited to 1,900 and printed by The United States Playing Card Company on Crushed Classic Stock with Air-Cushion Finish.