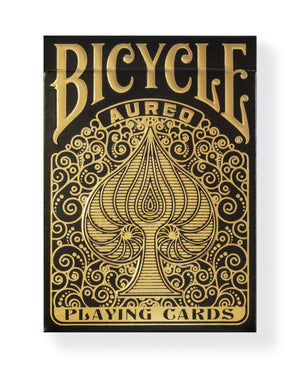 In the early 1500s Leonardo Da Vinci illustrated 'La Divina' (The Divine Proportion), a book written by mathematician Luca Pacioli that described a mathematical theory called "The Golden Ratio" which is still used to this day in paintings, sculptures and more to achieve balance and beauty.
A must-have for anyone looking for a unique deck of cards that can perform perfectly in your hands, on the card table or as a decorative accent when not in use, Bicycle: Aureo draws inspiration from the renaissance era and the Golden Ratio, where gold foil and swirl designs bring perfect proportionality to life. 
Printed by 
The United States Playing Card Company 
on Bicycle
®
stock with Air-Cushion Finish
®.