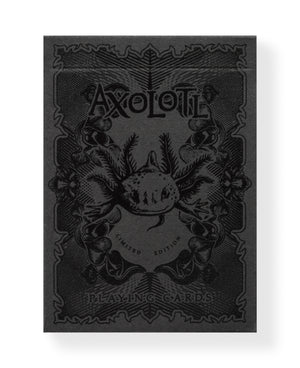 Created to spread knowledge about the Axolotl (also known as the Mexican walking fish) and to support conservation efforts, Axolotl playing cards by Enigma Cards feature original artwork for every card in the deck - from court cards to aces, number cards to the back design - all inspired by the Axolotl's natural environment.
Housed inside a matte, black-on-black tuck box with spot UV finish, Axolotl's back design displays the harmony that exists between water, the Mexican walking fish and the water hyacinth.
Inspired by the creature's cute, almost child-like nature, Aces show the curious interaction between the Axolotl and different plants. Court cards are also completely custom and adopt an underwater aesthetic, with air bubbles, floating hair and even mossy clothes! 

Designed by Sextante Studio and printed by Cartamundi on their True Linen B9 Finish.